Back in 1995 it was estimated that a family of 4 throws away about 122 pounds of food per month! That is a ton of money going right into the garbage! (Picture from New York Times).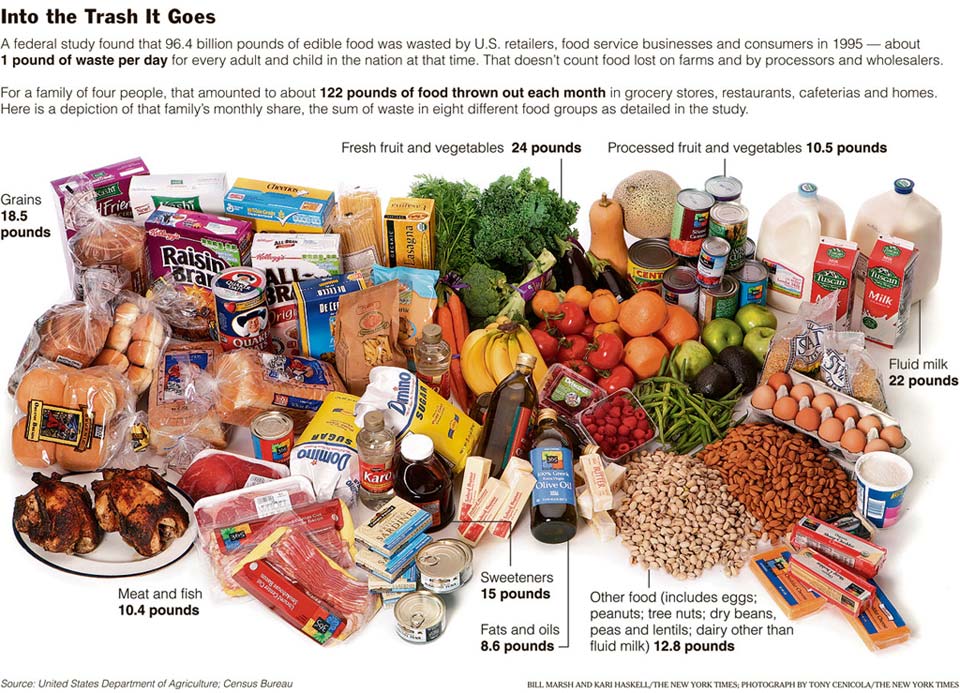 One way we save is by working really hard to make sure that the money we spend on food is not wasted. This recipe is one way I do that. I don't know how things are in other families, but in our family there seem to be a lot of bread heels floating around. Often they go stale. As long as they don't have any mold they are still fine to eat, but who wants a sandwich on stale bread?
This French Toast Bake is perfect for stale bread. It is a meatless meal which saves money, and another plus is that it can be frozen and used another day.
6 slices stale bread broken into pieces
8 oz cream cheese cubed
21 oz favorite fruit pie filling (we really love it with Apple pie filling)
6 eggs
1/4 C. Maple Syrup
1 C. milk
Put foil in pan, put bread in pan along with cream cheese cubes. Spoon in fruit pie filling. In a bowl mix the eggs, maple syrup and milk. Mix until well blended. Pour over items in pan. Bake at 350 degrees covered 30 minutes and uncovered 30 minutes.
If you want to freeze do not bake, instead cover pan with foil and place in freezer. Freeze overnight. Once frozen put in a plastic bag. When you are ready to eat it, cook as directed above.
Enjoyed this post? Consider sharing it with friends by clicking one of the buttons to the left.